Camp at Heritage Oak Winery with Tentrr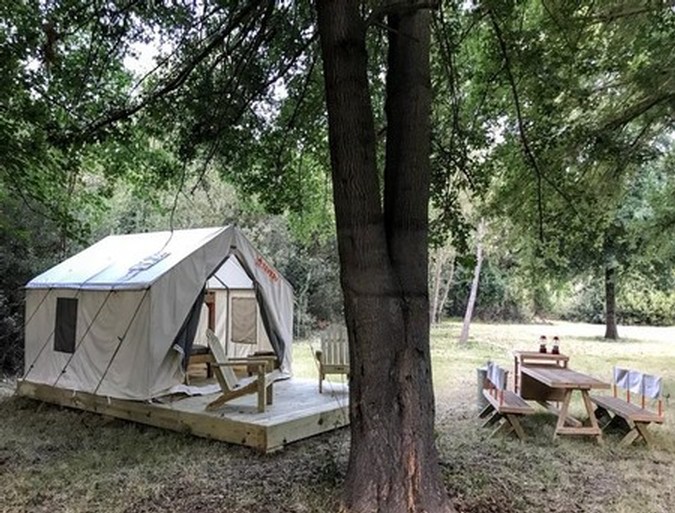 We have the opportunity to allow guests, friends, or club members to camp here at the winery property via Tentrr.com. We have a great tent cabin set up down near the Mokelumne River surrounded by trees and beautiful meadows. It is in an private location where you will be able to relax and enjoy the peaceful, natural setting and the river. It also provides our visitors with the chance to visit the winery and learn more about what we do at Heritage Oak or explore the other many wineries and opportunities found in the Lodi region. For more details, pictures, ameneties, or to book your stay, please CLICK HERE
Campsite Information: For those who have booked time at our Tentrr campsite, here is some useful information. The campsite is about 500 feet from the parking area. The trail to the site drops forty feet through a series of stairs to the floodplain, after which, it continues across flat ground. The use of back packs may minimize the number of trips you have to make back and forth from the camp to the the vehicles.
Please be aware that San Joaquin County does not permit open fires, so, unfortunately, campfires are not allowed at this location.
Check in time is any time after 12:30. Check out time during the busy season is 11:30 AM. If there is no one coming to stay at the campsite after you leave, then you are welcome to stay longer and check out at 4 PM.
Our campsite is set up with most things you'll be needing. All you need to bring in is your food and personal gear. The campsite comes with a 10 by 10 foot tent where you'll find two queen matresses arranged in bunk beds. There are four chairs, a table and benches beside the table, a camp box filled with gear, and a toilet. We provide you with trash receptacles inside and out, a filled 10 gallon water container, a Weber grill, briquettes and a hammock stretched between two trees.
Camp Box Contents: The campsite is equipped with a camp box which stores things you don't have to bring when you come to stay. Here is a list of items currently in the box:
A roll of paper towels
Toilet paper
A first aid kit
Two fluorescent lamps
One flashlight with batteries
Bic lighter
Cooking tools for grilling
BBQ Starter Fluid
Briquettes
Propane camp stove
Propane bottles
Pot for boiling water
Bug repellent
Hand sanitizer
Clorox wipes
A bottle of Camp Suds
Wash basin
Sponge
Sun shower
Bags for garbage can
Bags for camp loo
What You Need to Bring: Your clothing, your bedding (sleeping bags, blankets, pillows), your mess gear (plates, cups, utensils), your food and any tools you might need to prepare your meals. That's it! If you want to spend time in the river, you might bring a bathing suit and some sandals.
A Short List of Do's and Don'ts: Please follow these restrictions on campsite activity. No discharging fire arms or setting off fireworks. Unfortunately, camp fires are not permitted in San Joaquin County. This camp is "walk-in" only. Vehicles are not permitted. Please respect our neighbors. No loud music at night. Keep your valuables with you or lock them in the camp box. If you bring your dog, please clean up after it.