2018 Fall Wine Club Release
For this quarter's wines we have settled on:
2015 Bartlam Zinfandel (New vintage release!):
This wine has been in the tasting room line-up since the very beginning. In fact, Rad Bartlam was one of my home winemaking buddies when I was an amateur before Heritage Oak Winery came about. He made his Bartlam Zinfandel from the vineyard in front of his house, and I made my Hoffman Zinfandel from Block 14 vineyard. Now I do all the work, but still love the flavors that come from the Bartlam Vineyard. This particular vintage has a nice spiciness that floats across the palate. Also, this is one of few wines that go into new barrels, giving a wonderful oak backdrop behind the fruit flavors.
2014 Syrah-Petite Sirah:
Dark, rich and inky. This is a big wine! It has great fruit with a nice acidity, full structure and firm tannins. If you are inclined to lay some of your wines down for a few years to see what they can potentially develop into, this is definitely a candidate. Over time, the tannis will soften and smooth the acidity, giving it a roundness and texture you'll enjoy. That is if you're willing to wait, it is also quite good right now.
2015 Zinfidelity:
This wine, along with my Zinjo and Vino Tinto blends, has become a trademark blend. Up front you will notice the wonderful fruit expression Zinfidelity has, both in the aroma and on the palate. I achieve this by aging the wine for the first year in special wine tanks called Flextanks. They are made from a plastic like material that breathes much like a barrel does. They are of course designed for winemakers that want to make wine then add oak by means other than a barrel (adding oak staves, or balls or cubes). I choose to use these tanks to make wines without oak. By eliminating oak exposure, the true fruit expression is allowed to shine through, making this a delightful sipping wine - perfect for friends and backyard parties!
Wine description & write-up by owner/grower/winemaker Tom Hoffman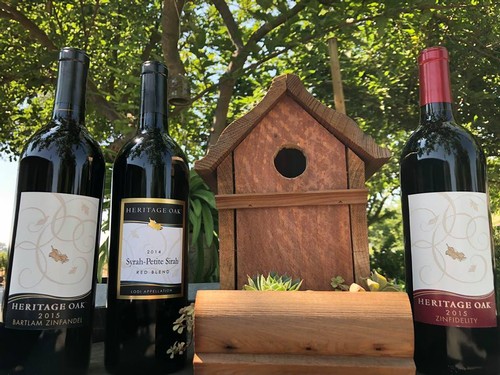 Here is Jim's video blog of the Fall 2018 wine selections. Enjoy: