2018 Winter Wine Club Release
For this quarter we have chosen three wines from the 2015 vintage, two of which we have released for sale in the last few months, while the second one I discuss here, is just coming out now as a new release. 2015 was a landmark year for me because up until that time I had to outsource grapes if I wanted to make anything other than Zinfandel and Cabernet Sauvignon in the red wine department. I planted lots of other varieties in 2012 (twenty-three, in fact) and 2015 was the first year I used all my own fruit.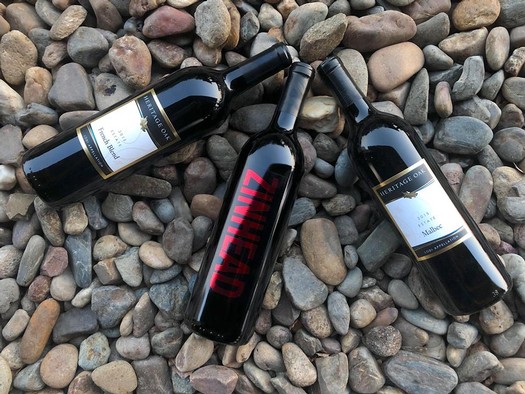 2015 ZINHEAD
Two things separate this wine from others that I make. The first is I intentionally pick it late in the season so that the fruit is as mature as I can get it. That means the grapes come in with lots of raisins in the bunches, which, once re-hydrated during the wine making process, give me that "jammy" characteristic that Zinfandel can have. The second thing is that I put this entire lot in new barrels made from trees harvested in Pennsylvania and produced by Cornerstone Cooperage. I believe these barrels contribute that sweet vanilla backdrop that ZINHEAD has become known for.
You'll find this to be a big, bold wine, with a dark, heavy presence in the glass. On the nose it has hints of black fruit, like blackberries and ripe plums and sweet raisins. It is just as big on the palate, where that ripe fruit flavor comes through. It's not jammy in the sweet sense, but the suggestion is certainly there. I'd serve it with just about any red meat dish you enjoy. Steak, burger and pizza are three of my favorites.
If you are into aging your wines, this one will certainly last quite a few years in the cellar. It has a nice balance of acidity and tannin, two of the things I look for when I consider a wine's lay-down potential. Pick up a half case and try a bottle every six or eight months. I think you will see it develop a rich, smooth character over time.
2015 French Blend (New Release!)
This is a complex wine, full of flavors that express themselves in waves as the wine rolls over your tongue. It is 66% Cabernet Sauvignon, 17% Syrah, 9% Petit Verdot and 8% Cabernet Franc. For aging, I used one third new barrels and two thirds two year old barrels and kept in the cellar for an extra year, giving it three full years of aging time.
You'll find this wine to be of good density of color with a slight suggestion of oak on the nose, a rich, full body with nice expression of mature fruit and a lingering finish. It has everything I like in a wine. As with any wine composed of these varieties, this one is definitely a keeper with great age-ability and a long shelf life.
2015 Malbec
This wine certainly surprised me when I first tasted it shortly before it was bottled last summer. When I think of Malbec, what comes to mind is a wine with a big plummy flavors and soft acidity and smooth tannins. This wine however, comes across with a pleasantly surprising liveliness in the mouth with a very curious spiciness around the edges. You'll find it to be a great complement to your holiday meals, or as an aperitif with cheeses and fruit during gatherings of friends and family. I find it to have great density of color, subtly floral on the nose with hints of leather and oak. It has that classic Malbec mid-palate intensity supported by good acidity then followed by a tapering finish.
Wine description & write-up by owner/grower/winemaker Tom Hoffman​
Here is a video with Jim talking about the December Club wines