2017 Petite Sirah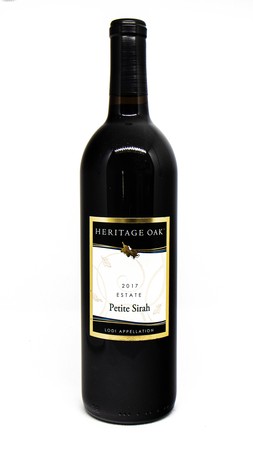 Wine Specs
Vineyard Designation
Hoffman
Harvest Date
September 2014
Aging
New American oak barrels
Bottling Date
November 2017
Petite Sirah is a popular variety in Lodi. It requires a long, dry growing season to bring the grapes to full maturity and reduce over expression of tannins, which the area here can provide. This is the first time the winery has produced Petite Sirah as a stand alone varietal, and it is mighty good! Of course that dark, inky color all of us Petite Sirah admirers love comes through beautifully. Great to pair with strong, spiced dishes and rich, meaty entrees.
Wine Specs
Vineyard Designation
Hoffman
Harvest Date
September 2014
Aging
New American oak barrels
Bottling Date
November 2017
Wine Profile
Tasting Notes
Lots of bold fruit (think blueberry, blackberry, even some pepper and spice), soft tannins balanced with acidity, and a touch of oak.
Other Notes
Contrary to its name, Petite Sirah isn't very "petite" in nature. It is a big monster of a wine: dark, big and inky. Discovered in France, it is actually a grape called Durif… but once traveled to the United States was soon called Petite Sirah, for various reasons. Today, Israel and here in the U.S. are the top two producing areas for quality Petite Sirah.