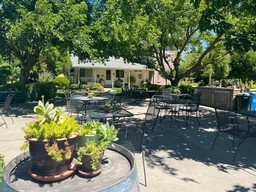 Welcome to Heritage Oak Winery
>>>CURRENT OFFERINGS<<<​
Reservations are not required, just stop by! (Unless you have a large group [8+ people], then advanced notice is appreciated).
We are offering outdoor wine tasting flights, select wine by the glass and bottle service daily (11am-5pm), on the patio.
Our hiking trail to the river is open during business hours of 11am-5pm, for picnics or a stroll - please check in at the tasting room first!
We appreciate the support, and look forward to seeing all of you!
---
Heritage Oak Winery is located on an isolated stretch of Woodbridge Road six miles east of Lodi, California on 106 acres of property that nestles up against the north bank of the Mokelumne River. The winery was built beneath a towering blue oak tree that dominates the landscape for miles around. The tasting room is open every day, and features a stunning line up of crisp whites and fruit driven, full-bodied reds.