2023 Spring Wine Club Release
Unusual weather continues in California as 2023 enters the second quarter. Historic amounts of rain and snow fell during the first three months of the year, followed by one of the coldest starts to spring on record. While the March 17th bud break in our Chardonnay vineyard was close to normal, the growth of stems, leaves and fruit buds are now weeks behind. On the bright side, we won't be irrigating early.
We picked out some great wines for you this quarter: two blends and a stand-alone variety. Let me take a moment and introduce them.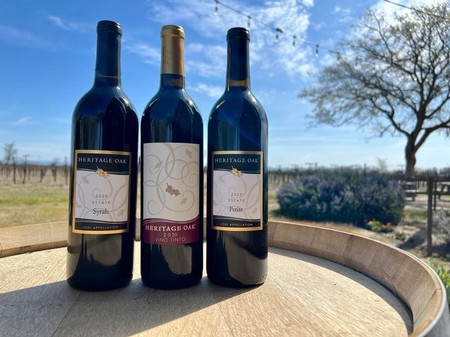 2020 Vino Tinto
Vino Tinto has been a long time favorite since our earliest days. In fact, my friends and I were making it during our days as amateurs. We haven't had it for a while as I skipped making it in 2019, so lots of our long time customers are excited to have it back in the line up. In all this time, we've kept the recipe the same: 2 parts Zin, 2 parts Syrah and 1 part Petite Sirah. You'll find Vino Tinto to be an easy drinking wine with fruit up front, a rich, full texture on the tongue and a lasting finish. It's great with pizza or burgers or just in a glass on its own.
2020 Syrah
I'm excited that this wine was selected to be one of the selections for this quarter since it is the first single varietal wine to come off the vineyard we planted in 2012. It has wonderful depth of color. I pick up some intriguing herbal notes in the bouquet and on the palate, it is well textured with suggestions of ripe plums and a touch of oak on the finish. I'd serve this with any meal of robust, full flavored meats. But if you are inclined to age your wines a little, this one will only get better with the tannin and oak mellowing over time.
2020 Petite (3+ Bottle Clubs)
This is our 50/50 blend of Petite Sirah and Petit Verdot, and if you are in any way familiar with either of those varieties, you won't have any trouble imagining what this blend is like. It's dark and inky, with bold, ripe fruit on the palate, enhanced with oak from the new American oak barrels it was aged in for two years. This is another wine you can enjoy now or lay it down for a few years until it reaches perfection. We expect this lot to sell out by mid summer, so let me know soon if you are interested in a larger supply.
The Vino Tinto retails for $21 while the second and third wines are set at $28. Your club price is different depending on your level of membership. If you are so inclined, I recommend you try them out before the end of the month comes around so you can take advantage of the steeper discounts offered on additional purchases.
Thank you for participating in our wine club. Any feedback you might have is always appreciate
Wine description & write-up by owner/grower/winemaker Tom Hoffman​
Powered by Embed YouTube Video