2019 Fall Wine Club Release
Dear Club Members,
For those of you who allow us to pick your wines, our selection committee has landed on three great wines for our Aug/Sept release.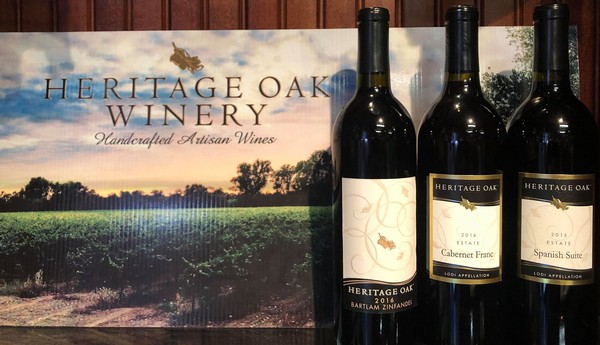 2016 Bartlam Zinfandel
This wine has a large following among our regular visitors. It comes from fruit grown on our neighbor's property, and consistently gives me rich, bold wine full of varietal characteristics while standing apart with its own flavor profile. In the glass you'll notice it has high density of color. Its fragrance gives me oak and a hint of cloves. I find it to be big and bold in the mouth with red and black fruit, balanced with acidity and tannin. The new oak barrels it was aged in give it a tapering finish. It is definitely a keeper, and will soften and mellow with age, but is also great right now.
Your price is $19.20 with additional bottles before the end of September only $16.80.
2016 Cabernet Franc
I'm very proud to present another new wine from our new vineyard planted in 2012. When I taste this wine, the words that come to mind are "soft" and "smooth". It has a very appealing color density, a subtle, yet fruity bouquet with a pleasing breadth on the palate and a surprising spice component.
Your price is $22.40. Additional bottles are $19.60 until the end of September.
2015 Spanish Suite
For our 3 bottle and up Club members, we settled on this great blend. In preparing to bottle this wine, my first choice of names was simply Spanish Blend, but for some reason the federal agency that oversees everything about alcohol labeling, wouldn't let me do that. As an alternative, I came up with this. I liked the word "Suite" because, as a musical term, it refers to a collection of lively instrumental dance pieces and I felt it was fitting because of the layers of complexity this wine presents. In that way, it is like a series of musical pieces except it is in your mouth and not in your ears. This is a dark wine, made of classic Spanish varieties: Tempranillo, Graciano and Garnacha. I get smoke and leather on the nose, with a touch of sage. On the palate, its acidity balances nicely with ripe plums. I particularly like the texture and pleasing viscosity that leads to a tapering oak finish.
Your price is $22.40, with additional bottles just $19.60. I'm going to recommend you open this bottle up before the end of September and try it out. If you'd like a few more bottles get a hold of me right away. We started August with only 59 cases of this wine, so if you wait too long, you'll miss out.
I hope you enjoy this quarter's wines. Cheers!
Wine description & write-up by owner/grower/winemaker Tom Hoffman​
Here is a video with Jim talking about the June Club wines: (s0rry we didn't get around to making one for this Aug/Sept release!)
Powered by Embed YouTube Video