2019 Summer Wine Club Release
Dear Club Members,
For those of you who allow us to pick your wines, our selection committee has landed on three winners from the 2016 vintage for our June release.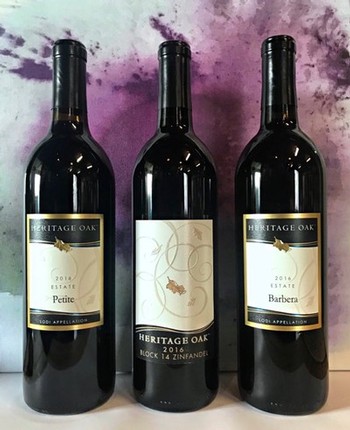 2016 Petite
This wine stands out for a number of reasons and was an easy choice to include it in this quarter's line-up. First, it's big and bold when it comes to flavor, but that's not surprising considering it is inky dark, made from 50% Petite Sirah and 50% Petit Verdot. A second reason it stands out is it is soft and smooth, and that is surprising because it is 50% Petite Sirah and 50% Petit Verdot. These two varieties are known for their tannin levels, but late season picking for both of these grapes gives me mature, supple tannins that provide structure without the dryness.
A third reason: it is coming to you at a killer price of just $14.40 a bottle. I'm going to recommend you open this bottle up before the end of June and try it out. If you'd like a few more bottles, get ahold of us soon. I only made 100 cases of this wine. If you wait too long, you'll miss out. Additional bottles are a crazy $12.60 only until the end of June.
2016 Block 14 Zinfandel
Year in and year out, this wine is one of my favorites. Straight Zinfandel, picked at the peak of maturity from our own Block 14 planting, with no other varieties blended in, then aged in older barrels to enhance the fruit expression. You can't go wrong with a bottle of this wine. It has classic Zinfandel expressions of spice and ripe red fruit flavors, like raspberries and cherries. I'd serve this up with any meal that has some zing to it, but to let it shine best, have it in your favorite glass on its own.
Your price is $19.20, with additional bottles $16.80 until the end of June.
2016 Barbera
For those members on our three bottle and up program(s), I'm very proud to present another new wine from our new vineyard planted in 2012. It has typical Barbera depth of color, with a mix of red and black fruit flavors, and a wonderful mid palate depth and structure. Its good acidity levels make it a great wine to lay down for awhile, but it is a great complement to any meal or plate of appetizers right now.
Your price is $22.40, and all additional bottles are $19.60 through the end of June.
I hope you enjoy this quarter's wines. Cheers!
Wine description & write-up by owner/grower/winemaker Tom Hoffman​
Here is a video with Jim talking about the June Club wines:
Powered by Embed YouTube Video