2023 Winter Wine Club Release
2019 Cinsaut
Now here is a grape that is knee-deep in confusion: confusion about what its name is, confusion about how to pronounce the name. (We go with "Sin-SO"). In fact, Wikipedia lists more than sixty synonyms that Cinsaut is also known as. Grown all over the world, particularly in hot, arid regions, nearly everywhere it is produced it is called something different.
Not surprisingly, Cinsaut does very well in the Lodi region. One point I find particularly interesting is one of the oldest vineyards in Lodi was planted with Cinsaut in 1885. And while the fruit from this vineyard is now in great demand by wineries in the area, I think its original use was as a table grape. Remember that Lodi was a table grape producing region long before it grew grapes for wine, and one of Cinsaut's many names is Black Prince, an old fashioned table grape variety that many people still recognize today.
In actuality, it makes a great wine, particularly if you want something distinctive. When you pour a splash into a glass, the first thing you'll notice is the color is a little on the translucent side. If you are one of those who thinks big flavored wines have to have deep color, try approaching this wine with your eyes closed. Give the glass a swirl and take a whiff. You'll find it to have an unusual fragrance for a red wine. Floral and fruity. Then, keeping your eyes shut, take a sip. Bam! Do you see what I mean? Big fruit, spot-on tannins, silky texture. This is a great food wine, complementing a wide variety of lighter meat dishes and appetizers.
2019 Voilá!
Cabernet Sauvignon still reigns as the King of Grapes across much of the world because of its fruit expression, supporting tannins and age-ability. I find it to be a wonderful wine for blending and for the past few years, my approach with my Cab fruit has been to use it as a centerpiece and build a blended wine around it. I like a mixture of about 50% Cabernet S, then adding Petit Verdot, Cab Franc and other varieties of French origin (this vintage has Malbec). I find the resulting wines to have complexity and character, with layers of flavor. You'll find my 2019 Voilá! to be fragrant and lively on the palate, with a good acid/tannin balance and a pleasing finish. If you are inclined to lay wines down for bottle ageing, this one would be a perfect candidate.
2020 ZINHEAD (3+ Bottle Clubs)
This wine has been one of our best sellers for many years. It's made from fully ripened Zinfandel grapes, blended with a touch of Petite Sirah (17%) and aged in new American oak barrels for the duration of the aging period, usually about 18 months. It's a well balanced wine with an inky dark presence in the glass, dark fruit flavors on the palate and a touch of oak on the finish. If you aren't already, it is a wine that will turn you into a believer in the value of Lodi Zinfandel as a grape.
All three wines are the same price, depending on your club level discount based on a $28 retail. If you are so inclined, I recommend you try them out before the end of the month comes around so you can take advantage of the steeper discounts offered on additional purchases.
Thank you for participating in our wine club. Any feedback you might have is always appreciate
Wine description & write-up by owner/grower/winemaker Tom Hoffman​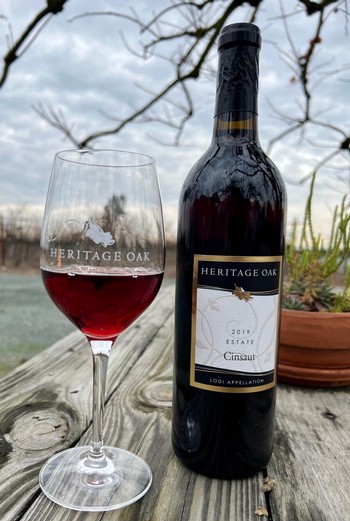 Powered by Embed YouTube Video