2020 Spring Wine Club Release
Dear Club Members,
For those of you who allow us to pick your wines, our selection committee has landed on three great wines for our March release.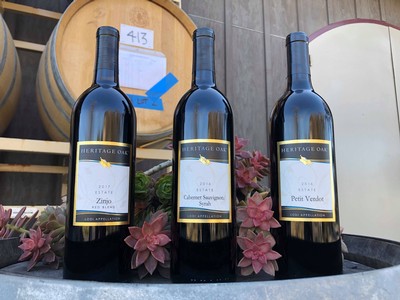 2017 Zinjo
I really enjoy making blends and the reason I like them so much is because I have found that when we approach a blended wine we forget many of the preconceived notions of what a wine should be like and permit our palates to appreciate the wine on its own merits. My friends and I were making Zinjo 20 years ago when we were amateur vintners, and I still think it is a great concept. We pronounce it Zin/Joe, though some folks put a Spanish twist on it and call it Zin/Ho, but no matter. It is a lively fifty-fifty blend of Zinfandel and Sangiovese and you will find that it has wonderful zesty fruit expression with good acidity. It's a great wine to enjoy with friends when you are just having fun, and that's exactly what I think a wine should be.
Your price is $14.85 with additional bottles purchased before the end of March an inconceivably low $12.99.
2016 Cab/Syrah
Speaking of red blends, here's another one, though a little more serious in nature. It's made of two grapes that are individually considered to be powerhouses in the world of wine, but complement each other so well that the combination really gets global recognition. The Syrah brings that luscious, plummy full bodied mid-palate fruit, while the Cabernet inserts its own broad spectrum of flavor and complexity but with a healthy dose of tannin to give the wine a tapering finish. I gave this wine two and a half years in new American oak barrels to give it a touch of oak backdrop. This is a wine to savor with layers of flavor that give your mouth a full experience. It also has wonderful age-ability. Give it a few years and it will be something you can really look forward to opening on that special occasion.
Your price is $22.40 with additional bottles before the end of March only $19.60.
2016 Petit Verdot
Petit Verdot is a grape that really shines in California. Where it is historically grown in northern France, it frequently fails to reach maturity and can not be harvested without the green flavors and tannins that it has become known for. But here, with our long, dry growing season, we can bring out the rich, dark fruit flavor and soft tannins that come with full ripeness. I aged it for two years in American oak, and find it to be eminently drinkable now with great texture and rich black fruit flavors. Given a few more years in the bottle, however, and it will reach its full potential. Unfortunately, I only made 75 cases of this wine. I suggest you try your bottle now. If you want more, act soon. My supply won't last long.
Again, your price is $22.40, with additional bottles before the end of March only $19.60.
I hope you enjoy this quarter's wines. Cheers!
Wine description & write-up by owner/grower/winemaker Tom Hoffman​
Here is a video with Jim talking about the March Club wines:
Powered by Embed YouTube Video