2021 Winter Wine Club Release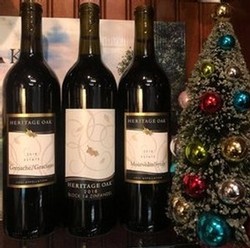 December 26, 2020
Dear Club Members,
Our journey through the chaos that has been 2020 is nearing a close. It has been a year of trial for all of us. Raising children, educating them, working to keep food on the table, all aspects of daily life we have always taken for granted, now complicated by the threat of a disease. Most all of us can recall someone we have lost over the past months. I, for one, lost my mother in August, not necessarily from the pandemic, but I don't doubt that her isolation from family at the rest home where she resided the past few years didn't contribute to the downward spiral of her confused mental state and ultimate demise. Joanne was 93.
The California grape and wine industry has suffered huge impacts from the pandemic and other forces. The fires that erupted during the late summer ruined crops and destroyed vineyards up and down the state. At the same time, the fires created opportunities for some growers whose crops were not damaged by opening up the market.
Operating a retail tasting room has likewise been up and down. After being closed for five months while the pandemic spread across the country, we opened up on August 1 with new protocols: outside tasting only, sanitizing, face masks and plexiglass shields. When December rolled around and instance of disease spiked, the governor asked tasting rooms to shut down again. We are back to relying on you, our existing club members, for support. From the bottom of our hearts, we thank you for standing by us.
And I'm are thankful for wine, my go-to antidote for the train wreck called 2020. Speaking of which, our Wine Club Selection Committee has once again done their job and has landed on three outstanding recommendations.
2018 Grenache/Graciano (new!)
If there were ever two grapes that were made for each other, these are the ones. Grenache is light in color, but fragrant, with subtle tannins and a long finish. Graciano, is bold and rich in color, with bursting mid-palate fruit expression and considerable acidity. Together, they create the perfect package. You'll find this wine to be deep, rich in color with a suggestion of strawberries and blueberries on the nose. On the palate, fruit comes forward, followed by acidity and a lingering finish. This is a fun wine, bright and expressive. Serve it with a favorite meal on enjoy it on its own.
For all of these wines, your price is $22.40 for the first bottle, and re-orders through January are just $19.60.
2018 Block 14 Zinfandel
This wine has always been one of my favorites, and I was very excited when our selection committee finished their blind tasting and it came out one of the winners. It is a classic Lodi Zinfandel, with that zesty spice character that makes Zin so enjoyable. Ripe raspberries jump out at the first whiff, with more raspberries and other red fruit flavors expressing on the palate. Enjoy this wine with your holiday fare. It was my choice for Christmas dinner, served right along side Carmela's baked short ribs and morel mushrooms. A memorable meal it was.
For all of these wines, your price is $20 for the first bottle, and re-orders through January are just $17.50.
2018 Mourvédre/Syrah (new!) (3+ bottle Clubs)
I think you will enjoy this blend. It is a unique wine in that it is made from two grapes not frequently found together. I get a hint of dried cherries in its fragrance. In appearance, it is of medium depth of color. Your first sip brings a full, rich plum flavor, balanced with acidity and tannin. It is a wine that calls out for a meal with bold flavors, like red meats or hearty sauces over pasta. And if you are inclined to lay your wines down for a while, this one would be a good candidate.
Your price is $22.40 for the first bottle, and re-orders through January are just $19.60.


Like always, I recommend you try your wine soon so you can take advantage of the discount window over the coming weeks. I hope you enjoy this quarter's wines.
Wine description & write-up by owner/grower/winemaker Tom Hoffman​
Short Video with Tom discussing the wines:
Powered by Embed YouTube Video