2019 Winter Wine Club Release
Dear Club Members,
For those of you who allow us to pick your wines, our selection committee has landed on three great wines for our December release.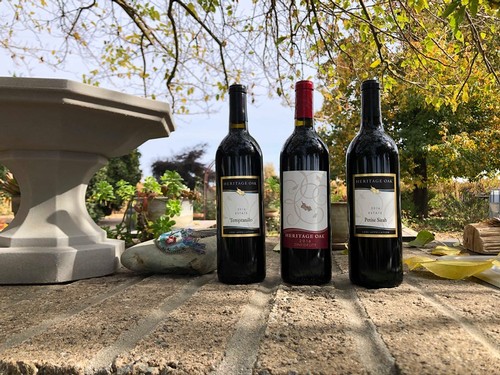 2016 Petite Sirah
This is the Big Boy in this quarter's trio. It is for people who like their wines full of flavor, richly textured with a healthy side dose of balanced acidity and tannin, and served up with a dollop of new oak. In the glass, as one would expect, it is completely opaque. It has aromatics of fruit with oak in the back ground, and it is hard to miss its density on your tongue with the first sip. Black fruit flavors up front yield to robust acidity and tannins that linger together with the oak as the wine finishes. This is a wine you could lay down for years, if you are so inclined, but it is an impressive mouthful right now.
Your price is $22.40 with additional bottles before the end of December only $19.60.
2016 Zinfidelity
I always joke that this is our "adulterous" blend of Zin and Cab, with the point being it seems sinful to blend these two varieties together. Then that begs the question which sin has been committed. Well, Gluttony, Greed and Sloth don't evoke much of a response in my imagination, but Adultory, now that has potential. All humor aside, this is a fine wine and I'm proud of it. It has great color and has a wonderful fragrance of ripe red fruit. On the palate it is bright and lively with good texture and balance and a lingering fruity finish. And to make it even better, it comes at a great price.
Your first bottle is just $14.40, with any others at $12.60 if ordered before January 1
2016 Tempranillo
As our third choice, for those who are on the three bottle program, this was an easy decision. This wine is deep, dark in the glass. I'd characterize the bouquet as fruit driven with just a hint of oak. It has full texture on the tongue, with a nice balance between acidity and subtle tannins. This is a wonderful food wine, and will bring out the best in your holiday meals.
Your price is $22.40, with additional bottles just $19.60. I'm going to recommend you open this bottle up before the end of December and try it out. If you'd like a few more bottles get a hold of me right away. As of this writing, there are only forty cases left, so waiting to order is not to your advantage.
I hope you enjoy this quarter's wines. Cheers!
Wine description & write-up by owner/grower/winemaker Tom Hoffman​
Here is a video with Jim talking about the December Club wines: