2022 Fall Wine Club Release
Dear Club Members,
The 2022 harvest is in its final stages. As of this writing, I still have several varieties hanging out there in the vineyard, struggling to mature. And for that to happen, I need some cooperation from Mother Nature, who, as you know, has been swinging around on her pendulum for the last month. A heat wave in early September with 10 days in the 110 degree range, followed by cool spell accompanied with rain (up to two inches in some areas) have put growers and winemakers on edge. If vines had brains, I'd say they must be as confused as we are.
We have selected three great wines for you this quarter: two popular blends and one stand-alone variety. The common theme among the three is that all are made, at least partially, from what one might call "oddball" varieties. That is to say, grape varieties that make up 2% or less of California's total red or white wine production.
2019 Tempranillo
This variety is still outside the mainstream, but as time goes by, it is becoming more and more popular. Festivals such as the Lodi Tour of Tempranillo (November 12-13, 2022) help get the word out. But out of the 1.6 million tons of red wine grapes produced in California last year, this variety only represents .46% of the total with 7400 tons produced. It has a long ways to go, but I'm doing my part to get the word out. In fact, this is one of my favorite wines. I find this vintage to be medium density in terms of color. Its fragrance suggests hints of leather and tobacco. It has good acidity supported by mature tannins, followed by a lingering finish. It's a great food wine and is one of my go-tos when it's time for me to bar-be-que a Thanksgiving turkey.
2019 Triolo (Italian Blend)
Fifty percent of the wine in this blend is Sangiovese, which is a popular variety in some circles but still just comprises just .2% of California's red wine production. Along with Tempranillo, you can find this variety in both supermarkets and restaurants that offer a wide variety of wines. Many of the offerings, however, will probably be imported from the country where the grape is widely grown, such as Italy, in the case of Sangiovese and Spain, in the case of Tempranillo. That's okay. I think the more people buy the imports, the more they are likely to buy a California label when they see it.
Sangiovese brings a lot to the table in terms of character and personality. Bright flavors, beautiful hues and good age-ability are among those traits. You'll find this wine to be dominated by red fruit flavors, with a firm, supple texture supported by soft, lingering tannins. The other two varieties in this blend are Barbera and Zinfandel, both at 25%.
2019 Viva! (Portuguese Blend) (3+ Bottle Clubs)
This wine is made from three of the most obscure varieties grown in this state, all of which are from Portugal: Touriga Nacional (4000 tons produced), Souzao (800 tons produced) and Tinta Cao (a mere 471 tons produced). To be honest, they will remain nitch wines forever because, until people become familiar with Portuguese, very few wine consumers can say their names. Regardless, THEY MAKE GREAT WINE! You'll find this wine to be slightly more dense in color than the Tempranillo. It has a subtle, but clean fragrance, with big, bold flavor comprised of dark fruit and a firm structure and mouthfeel. If you want to lay one of these wines down, I'd say this would be my choice as it has the tannin to allow it to age well.
All three wines are the same price, depending on your club level discount based on a $28 retail. If you are so inclned, I recommend you try them out before the end of the month comes around so you can take advantage of the steeper discounts offered on additional purchases.
Thank you for participating in our wine club. Any feed back you might have is always appreciated.
Wine description & write-up by owner/grower/winemaker Tom Hoffman​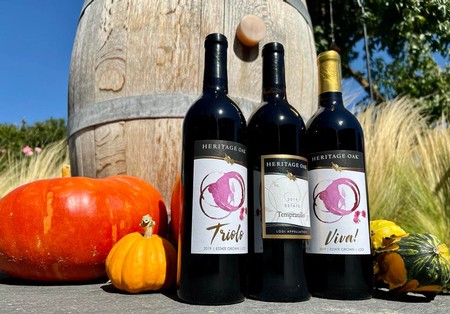 Powered by Embed YouTube Video